Wild Atlantic Way
'The road less travelled'
The Wild Atlantic Way is the world's longest defined coastal touring route.  It's inspiring, renewing, relaxing and invigorating. From its northernmost point in Donegal to its southernmost in Cork, the Wild Atlantic Way offers one of the world's most diverse and spectacular coastlines, jaw-droppingly beautiful cliffs, amazing surfing waves, remote islands and hills all along the route.
At the western tip of County Clare, peaceful roads and deserted beaches stretch out along the Loop Head Drive – an alternative route to the popular Cliffs of Moher. The narrow peninsula at the mouth of the Shannon offers an elemental of experience with high Atlantic swells smash into miles of sheer granite cliffs, kicking surf high into the air. You will also be pleasantly surprised to catch countless rainbows along the way. At the mouth of The River Shannon where it joins the wild Atlantic off County Clare's Loop Head Peninsula you will find 160 bottlenose dolphins, follow the road from Kilrush to Aylevarro Point to see them playing off shore.
Immerse yourself in the culture, music and food found in the towns and villages along County Clare, climb the most breath-taking heights and experience a landscape that revives the soul.
See our offers and enjoy your Wild Atlantic Way experience: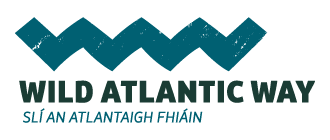 See the Wild Atlantic Way Video